---
This is a unique "indoor camp-style hostel" for experiencing "camp & mountain lodge" in the heart of Tokyo!

You can stay "empty-handed" as the rental fee for tents, sleeping bags and mats is included in the accommodation rate.

All the rental equipment is Japan-brands only available in Japan, so the usage in itself is a special experience

The rate(¥2500) is deducted from any camping purchase you would like to make

Amenities:Toilets, Shower, Free Wifi, Power outlet, Luggage storage space, and Security locker.

24hrs entrance (No curfew)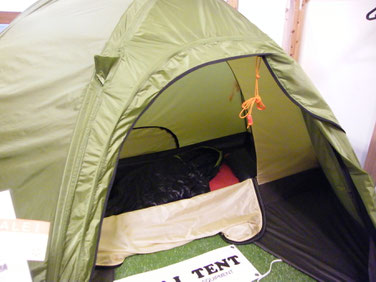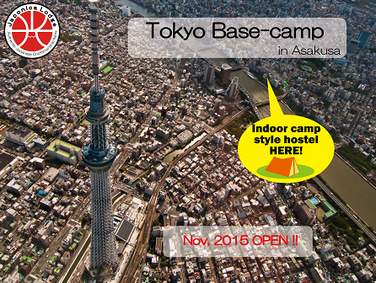 ---
You can use the camp & lodge space anytime after check-in (check-in time is between 12 pm and 8 pm ) but, "sleeping" there is  from 6 pm to tomorrow 11 am. Also you can use our guest lounge between 11:00 am ~20:00 pm.

This service is designed for the guests who are interested in outdoor experience. It is a kind of "trial camping", so it is not suitable for long-stay like a usual guest house. Also you need to use our free-rental equipment there.(No usage of your camping equipment)

Check out is 11am. Even if you stay an extra day, you cannot leave your luggage in the camp-ground. Please place it into the luggage storage space.

Some amenities like towels and toothbrush are not free. Please bring your own or rent/buy them at the reception.

The space is "Mixed"(unisex)  in common with normal camp site.

We don't provide meals since we don't have the kitchen.Around here, there are many restaurants, cafe, convenience stores and supermarkets.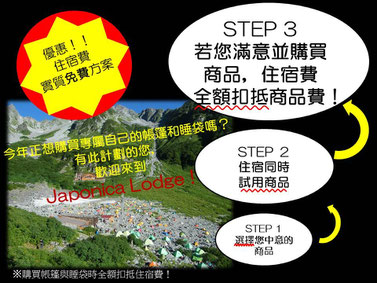 | | |
| --- | --- |
| Amenities service | Price |
| Rental bath towel and face towel | ¥100 |
| A disposable toothbrush | ¥100 |
| A disposable razor | ¥100 |
---
| | | |
| --- | --- | --- |
| Accommodation Style(※) | Price | Set incl. |
| Mountain Lodge-style stay  | ¥2,500~/1 person | Sleeping bag, Mat |
| Camp-style stay  | ¥2,500~/1 person | Tent, Sleeping bag, Mat |
(※)If your group want to rent whole of the space, please contact us via "Contact" form.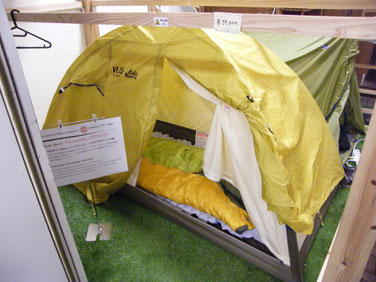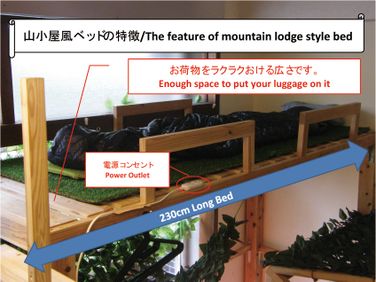 ---

自本網站預約即可取得折價100日圓的最佳優惠!
請於點選左方按鈕後輸入折價代碼「100D」以完成預約手續。
Note: We may ask you to do the credit card settlement before 1 week prior to your arrival when the rate become over ¥10,000.
---
Let us introduce this brand-new service by Q&A style
Q.How many people can stay?
A.Up to10 guests. It is a small size guest house.
Q.What kind of facilities you have?
A.We have Toilets, Bathroom, Luggage storage, Safety boxes, Hairdryer, but no free amenities such as towels, toothbrush like a real camp ground. If you want them, please use Amenities service given above.
Q.Do you serve meals?
A.We do not provide meals. But no problem!  Our lodge is located in the middle of Asakusa-city, so there are many restaurant around here. 
Q.What is the difference from a usual camp-site?
A.It is "indoor" camp site, so anytime guests can stay regardless of climate conditions. Also the place doubles as a showroom of Japanese outdoor requirements.  All the rental equipment is Japan-brands only available in Japan, so the guests enjoy the trial use.  
Q.What about cooking, and smoking?
A.The fire usage in the shop is prohibited, but you can smoke at the outside terrace.
Q.What is the difference from a usual guest house?
A.Our lodge is designed for outdoor travelers who want to enjoy camping and mountain lodge stay experiences. It is suitable to use as a "base-camp" to go to outdoor area. On the contrary, it is not suitable for prolonged stay more than 3 nights in a row.
Q.  What is included in the rate?
A.  Our guest can stay "empty-handed" as the rental fee for tents, sleeping bags and mats is included in the accommodation rate. 
Q.What is the difference between Mountain-lodge style and Camp-style?
A.Mountain lodge-style is sleeping on wooden beds, so using sleeping bags and mats. On the other hands, Camp-style is sleeping inside of the tents on lawn, so using tents, sleeping bags and mats.
Q.Is it possible to select the rental gears?
A.Yes, you can (first-come basis). The sleeping bags are changed according to the season. You can check them below. Also, you can select it in booking.
| | | | |
| --- | --- | --- | --- |
| No | Brands | Name/Temperature(minimum) | Weight |
| 1 | Isuka | Pilgrim 370/2℃ | 680g |
| 2 | Finetrack | 6X4/0℃ | 630g |
If you are cold-natured or do not want use the rental sleeping bag directly, we rend a "inner sleeping bag" for free. Please feel free to ask us.
| | | | |
| --- | --- | --- | --- |
|  No | Brands | Name/Type | Weight |
| 1 | Puromonte | GMT35/Air mat | 450g |
| 2 | Evernew | EXP mat UL180/Roll mat | 145g |
| 3 | Evernew | EXP mat Easylight185/Roll mat | 170g |
| 4 | Evernew | EXP mat Annapurna180/Roll mat | 325g |
| 5 | Logos | neos Airwave mat SOLO/Air mat | 1500g |
Q.Can I buy these gears?
A.Of course, you can buy new one with a special price (minus the rate from the asked price)
Q.When I use this accommodation space?
A.Whenever Japonica Lodge is open(11:30 am~8:00 pm), you can use the accommodation space, but, in terms of "sleeping" there, it is available from 6.00 pm because these space are utilized as the showroom of outdoor gears and a green-tea cafe during the daytime. Incidentally, the check out time is next day's 11:00 am.
Q.Do you have a curfew? What about entrance security?
A.After closing the shop (8:00 pm), only our guests can come and go into the lodge by the entrance key. Also please use your security locker if you have a valuables. In addition to this, our stuff stay at the same building during the night time, so you can call them in case of urgency.
Q.Do you have a internet?
A.Free Wifi is available in our lodge. Also there are power outlets for our guests in the accommodation space.
Q.What about the neighbor environment?
A.Although our lodge is located 1 min walk from Asakusa Train stations (Tobu line and Ginza line),  our accommodation space fronts onto Sumida riverside park (not onto a big road side), thus very calm in the night time.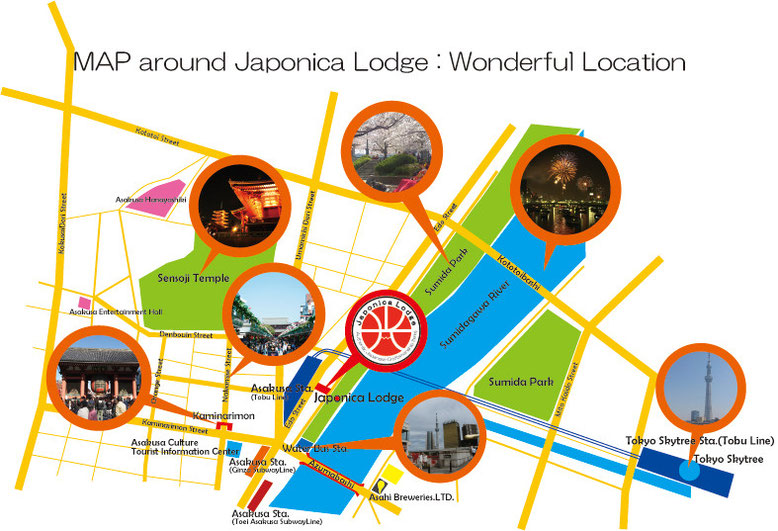 ---
Japonica Lodge Lodging Agreement
Lodging Agreement _160916.pdf